When it's time for a young adult to graduate high school, it's totally natural for parents to go a little crazy trying to check every box and make sure their kid is set for the future. But senior portraits may be a bit of a dark horse for some folks in the hustle and bustle of senior year. Do I need to hire a photographer for? How far ahead should we be planning? While taking senior portraits is a great way to cap off those childhood years and usher in a new, exciting era, they can also raise a bunch of questions. With so much else going on, I want to give you the 6 key steps you need to take for great senior pictures during the madness of senior year.    
6 Steps for Great Senior Portraits
Decide on an Aesthetic
One of our most important objectives throughout the process of shooting senior pictures is to accurately and flatteringly capture a senior's passions and interests. So whether it's sports, theater, fashion, or something else that gets you excited, your photographer will want to find ways of including that in your photos. Likewise, style and seasonal elements will influence your overall aesthetic. Putting thought into these things ahead of time is always wise.
The sooner you can start thinking about this stuff the better because the aesthetic you choose can actually influence scheduling. For instance, let's say you'd like to include colorful leaves in the foreground of a shot or two. Awesome! However, that autumnal vibe will be a bit difficult to pull off in March, so let's plan accordingly!
Schedule Early
Once you have an idea of the look and feel you want (or if you aren't sure and need some guidance), it's time to schedule your senior portraits! Fall sessions tend to book up quickly, so it's a good idea to not wait too long.
Pick Your Location(s)
Do you want your senior pictures to be indoor? Outdoor? Some of each? There are benefits and challenges to each. For example, indoor senior portraits may require additional rental fees while doing a shoot in the park is free. However, you're guaranteed to avoid the rain inside a bookstore or ice cream shop.
A reasonable senior portrait photographer should be willing to work with you to reschedule if an outdoor session gets rained out.
Nail Down a Wardrobe
Now that you have a general theme and aesthetic, you've scheduled your session, and chosen your location, it's time to think about that wardrobe. You'll want to pick out at least two different sets of clothes.
Important note: 60-minute sessions allow for two outfits, while a 90-minute session allows for three.
Obviously, I can't speak for other senior picture photographers, but I bring a changing tent to all my outdoor shoots. This way there's no stress about finding a place to change in public. Having a well-planned wardrobe can make an enormous difference. For added fun, don't forget to throw in some wild accessories!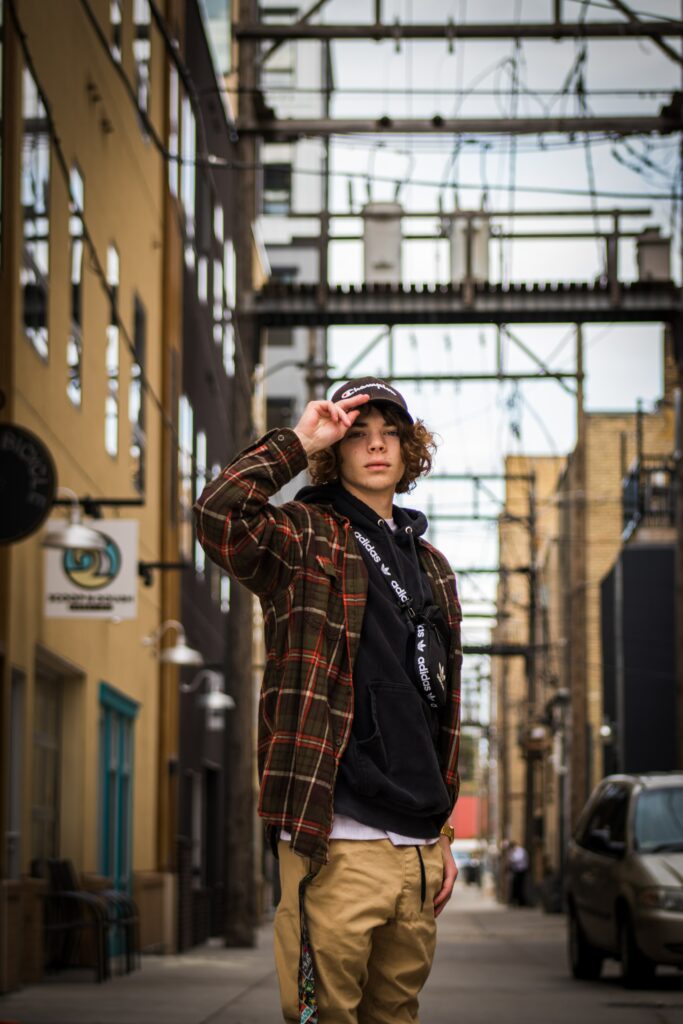 Pay Attention to Hair and Makeup
Too often, the benefits of professional senior picture makeup and hair get overlooked. This isn't just about helping seniors look their best, though — a hair and makeup artist can help them feel their best. And any actor, model, or photographer will tell you that confidence is worth a lot during a shoot.
Although many do, you don't necessarily have to hire a hair and makeup artist for your senior pictures. If you don't, it's important that someone skilled puts a degree of consideration into hair and makeup on the day of your session. After all, you've already put so much work into every other aspect of your senior portraits… don't let frizzy hair ruin your day!
Take a Deep Breath and Have Fun Taking Your Senior Portraits!
Scheduling, securing a great location, and figuring out your senior portrait makeup and overall aesthetic are important. All that said, this is supposed to be an enjoyable experience. Don't take it too seriously! Senior pictures are an amazing milestone in a person's life. Although my main goal as a photographer is for my senior to feel empowered, comfortable, and confident throughout their session, I also want them (and their parents) to have fun and make memories! (That's why I love doing a couple of shots with the parent(s) at the very end of a session.)
Remember, parents: This is as much a milestone for you as it is for your senior!
More Senior Portrait Questions?
As you prepare for your session, feel free to let me know of any remaining questions you may have. From picking your perfect wardrobe to handling senior portrait makeup and anything else that comes up, I'm more than happy to share any insights I can. Good luck!